S O Infotech is a global
IT services and solutions provider. We provide the winning edge to our clients by leveraging our business-to-IT connect and deeply committed people. Our clients include industry leaders, they have found in us a right-size partner who combines scale, stability and customer-centricity
Strong domain connect
Our solutions have a strong domain focus that helps our clients in different industries maximize the value of their IT spend.
Proactive investment in people and infrastructure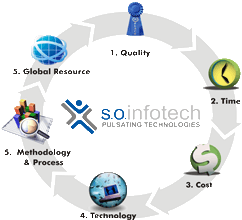 Our key strength is our people and we have created systems that allow us to attract, train and retain the best talent. We are also investing ahead of the curve by establishing state-of-the-art delivery centers. Our robust IT infrastructure delivers assured business continuity.